Some of you may recognize this feature from 25 Hour Books.  I was in the market for a feature to showcase the book bloggers I simply can't live without, Tara usually lets me do whatever I want if I pester her enough, and Who Am I Stalking? seemed appropriate. Win-win.  But please, no restraining orders are necessary.  Here's what happens: every month, I choose a new victim and bombard them with six interview questions: five standard questions, and one specifically for the blogger the giraffe shifters and I are stalking.  Then I share their answers with you.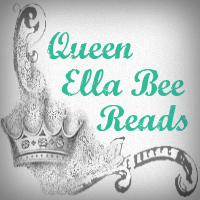 I think this is a case where Gaby actually found me. (Or Bout of Books brought us together.) She was all, "HI!" and I was like, "HEY!" and it snowballed from there. Also, Imagine Dragons. When Gaby said that she was interested in writing a series of discussion posts about blogging, I said, "TELL ME MORE." I liked her idea, so starting next week, Gaby will be taking over my blog every other week to discuss various topics. We will be discussing the following topics: why blog?, what to do after launching your blog, the need to churn out content, making a name for yourself, making blogger friends, and author signings.
1. Describe yourself in six words.
Loyal, silly, nerdy, loud, neat-freak, worrier
2. What has been your most exciting moment as a book blogger?
Meeting other book bloggers is my number one favorite thing that's come out of all this. So far I've met A WHOLE BUNCH of other bloggers at different events (mostly amazing UK bloggers, since I spent the last two months in England), but, as I mention basically all the time, meeting Alexa from Alexa Loves Books was pretty much the best ever. I'd just started blogging and we got to talking on Twitter and then ALL OF THE SUDDEN we were getting lunch and she gave me books. If you can't tell by all of the 'ands' in that sentence, I'm still pretty astounded by the whole thing. When I started by book blog I knew I was going to get to talk books and maybe chat with some other bloggers, but I never knew so many of those bloggers I would get to chat with would be made of so much awesome.
3. What are the best books that you've read for Queen Ella Bee Reads? The worst?
The best books I've read since I started blogging are those written by Gayle Forman. I didn't know of her or her awesome before I started blogging but since then I've read If I Stay, Where She Went and Just One Day. I put the encouragement to read those books on my Twitter friends. GOOD JOB GUYS! My Twitter friends also got me to read the Shatter Me series by Tahereh Mafi, which was ANOTHER good call. More hugs for Twitter.
The worst books? I read The Carrie Diaries for a read-along and then I read Summer and the City, which is the second book in the series. I didn't really love that either, mostly because they weren't what I expect AT ALL. In a bad way. I also didn't really like Requiem by Lauren Oliver. I can't say I was a MAJOR fan of the first two, but that third one really was a let down (especially after the epic cliff hanger at the end of book 2!).
4. Why is reading important?
Reading's always served as entertainment and escape for me. Without reading, I think I'd be a fairly unhappy girl. I also wouldn't have all of my Twitter and blogging friends, which would make me even unhappier… even though I wouldn't know that's the cause? (sorry, this just got a little meta).
Anyway, so yeah, reading's a brilliant adventure I would never trade in. But I think reading's even MORE important because no two people read one book the same way or have the same reading experience. You might have similar feels, but it's a really individual, personal experience – if you ask two people to draw what the protagonist looks like, you'll never get the same picture twice. And even more than just the imagine of the protagonist, the impression a book leaves will never be the same either. Y'know, the meanings and intentions are to some extent put forth by the author, but a lot of it is how YOU read it and who YOU are. And considering how sometimes it's easy to feel like a cog in a wheel or a lemming in… that game with the lemmings – was it just called Lemmings? I think so – it's nice to be able to have a personal experience with a book that you can own and no one can really take away from you.
5. What are some of your favorite reviews (or memes, features, discussions, etc) that you have written for Queen Ella Bee Reads?
In no particular order:
1. My review of Ferryman by Claire McFall – I made a Doctor Who connection and that's the best
2. My review of Shatter Me by Tahereh Mafi.
3. My discussion post about genres (Genres – They Shall Be My Undoing) – although I do love ALL of my discussion posts. They're the most fun to write.
4. My post about my trip to Paris (Paris Holds the Key to My Heart) – that was pretty personal and I liked the sharing.
6. You and I will be collaborating on a discussion series for newbie bloggers. Can you tell us a bit why you wanted to do this and what you hope to accomplish with the posts?
I think the number one reason I want to do this discussion series is because blogging really is HARD. There's no road map and you can stalk other bloggers until your fingers hurt from all the typing and clicking, but even then you can't totally be sure you're doing what you're doing for the right reasons or the right way (if there even IS a right way – see? This is HARD). Now, of course, there are tons of bloggers who are doing just fine, but I thought it'd be kind of cool to have a discussion series where you can read what I, in all of my still-somewhat-newbie glory, and others have to say about one thing or another. While I don't think there's a blogger out there who doesn't want you visiting their website for advising and other reasons, I also think it'd be nice to have ONE PLACE you can go for multiple opinions on newbie stuff.
I also hope this can serve as a reminder to more established bloggers that there ARE a lot of newbies out there and they could use a little help every now and again. I've already mentioned how AMAZING Alexa's been, but there are other bloggers out there who were so super sweet to me at the very beginning and I don't know how far I would have gotten without them. Not to mention, I think at a certain point established bloggers just have their way of doing things – and there's nothing wrong with that – but it could be nice to get a little discussion in, learn something new and change up some stuff, y'know?
Find Gaby here: