Some of you may recognize this feature from 25 Hour Books.  I was in the market for a feature to showcase the book bloggers I simply can't live without, Tara usually lets me do whatever I want if I pester her enough, and Who Am I Stalking? seemed appropriate. Win-win.  But please, no restraining orders are necessary.  Here's what happens: every month, I choose a new victim and bombard them with six interview questions: five standard questions, and one specifically for the blogger the giraffe shifters and I are stalking.  Then I share their answers with you.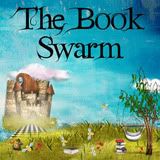 Oh my word, I don't even remember how I found Mary (or she found me). But regardless of how, I am glad that it HAPPENED. If you don't know Mary yet, you should fix that. I always look forward to Mary's comments on my posts, and she has some pretty awesome posts herself. (Love the speed dating feature!) She is one of the nicest, most awesome book bloggers out there!
1. Describe yourself in six words.
Introvert, speed-reader, quirky, obsessive, unable to describe herself in six words…
2. What has been your most exciting moment as a book blogger?
My most exciting moment was when one of my favorite authors contacted me and asked if I wanted to read on of her future releases. After an extensive happy dance that made me happy I wasn't on Skype, of course I said, "Hellz, yeah!"
BEA really rocked, too, because I got to meet fabulous authors and fellow bloggers and got to spend days fully immersed in books.
3. What are the best books that you read in 2012?  The worst?
There were around 30 books I marked as 2012 Faves but these were among my top (sheesh, picking my favorites was like picking my favorite furry kid!):
SHADOW AND BONE by Leigh Bardugo
GRAVE MERCY by Robin LaFevers
WANDERLOVE by Kirsten Hubbard
COLD DAYS by Jim Butcher
JENERATION X by Jen Lancaster
LORD'S FALL by Thea Harrison
And I had some DNFs and Meh books (but not nearly as many as I loved so yay) including:
DEAD RECKONING by Mercedes Lackey and Rosemary Edgehill — you'd think the Wild West, steampunk and zombies would rock but…no
INNOCENT DARKNESS by Suzanne Lazear — another disappointing steampunk that was just a hot mess
FURY OF SEDUCTION by Coreene Callahan — I was hoping for a fabulous paranormal romance but got a pale BDB replica instead
4. Why is reading important?
Holy cow. How can people not read? It completely breaks my heart that there are people out there who proudly declare that they don't read. Don't they know that there are worlds in books, filled with knowledge and love and hope and desire? *deep, calming breath* Actually, my TV boyfriend, Nathan Fillion, won my heart with his dedication to promoting reading (I even have his READ poster in my classroom) — I love his quote from kidsneedtoread.org
5. What are some of your favorite reviews (or memes, features, discussions, etc) that you have written for Book Swarm?
I'm pretty lax about self-reflection when it comes to my blog, choosing to look forward and live in the moment more than looking back. But I really like the Speed Date meme that I do on Thursdays because it's quick and fun to write. Even though I don't write them consistently, I really like discussion posts, too, because of all the dialogue it creates (My IRL friends don't read much more than chick lit (yeah, not sure why I'm friends with them either) so they don't like to talk about books with me. I need an outlet!).
6. You're writing a book. Feeling inspired by the giraffe shifters (as I'm sure everyone is), you want to have your own unique animal shifter in your story. What animal do you choose and why?
Oh, those crazy giraffe shifters! Definitely inspirational. Because my story's most likely going to be a paranormal romance with plenty of humor, I'm going to throw in some otter shifters to keep things fun. They're so cute! They love to play, hang out in the water, slide down big hills and have a good time. They're party shifters!
Find Mary here: