To continue my blogoversary celebration, I have Smash from Smash Attack Reads! here this afternoon to talk about the awesomeness of book blogging.  And so, without further ado, here she is: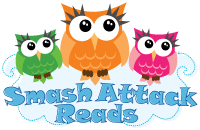 I'm really excited to be spending Amanda's blog birthday with her and many other amazing bloggers. And since my topic is about the awesomeness of blogging, then I think starting with the people behind the blogs is appropriate. BOOK BLOGGERS = Win. Lots of it. Have you ever in your life met someone as nice as the tons of people who run book blogs? I mean, I've been at this for almost 2 years now, and I am still constantly amazed at the generous, passionate people that run book blogs. We are certainly a special breed of people, and the more of you I meet in person, as well as converse with online, only strengthen these beliefs. You. People. Rock. As if that wasn't obvious…
Now, another awesome part of book blogging is, of course, THE BOOKS. Being able to receive books for review from authors and publishers is a serious perk. Of course, this can also become an overwhelming, how-the-hell-did-this-happen part of blogging as I stare at my TBR shelf that houses over 400 books….EEP. I put a hold on review requests for most of last year and only started allowing them again because of my associate reviewers, but I am still over my head with requests, even though I'm not personally taking many, or any, most of the time. That being said, the awesomeness of blogging can make us pull our hair out! Don't let the fun of reading be lost in the process of maintaining the blog! While we'd all love to make a living doing this, it is our hobby. The minute it begins to feel like a job, we need to take a step back and reevaluate. I've done this a few times. Review requests are actually a small piece of my current collection. Due to AWESOME bloggers who host giveaways and trade and send you gifts just cuz, our bookshelves can become strained under serious weight in no time. It's comforting to know I will ALWAYS have something to read for the rest of my life. Win!
Next up is the relationship with the AUTHORS (and Publishers!) I mean, who the hell ever thought you could chat up an author on Twitter or Facebook like they were your next door neighbor? Frankly, I wish some of them were my next door neighbors! For the authors who have made an attempt to be friendly via social networking, you must know how much it means to us! You are a supastah in our eyes and just making the effort goes a long way. And even for those authors who don't have as much time or aren't very interested in social media, we still adore you because you WRITE. You give us an escape, a good laugh, and sometimes a good cry. A good cursing or fist of doom joins the party sometimes, too. You give us entertainment, in many forms. YOU are appreciated!
And um, there's more, but you get the gist of the best parts of being a blogger (in my opinion).
Smash, #BookBully Extraordinaire.